This afternoon was rainy and windy, but something told me it was going to be a good afternoon for a whale encounter so we jumped aboard the
Western Prince
. We were not disappointed! Not only did the seas lay down and the sun come out, but we had an amazing orca encounter and saw tons of other wildlife. Here are some photo highlights....
(for any of these images, clicking on them will allow you to see a larger view in a photo gallery)
We headed south in San Juan Channel and out through Cattle Pass. A few miles offshore we met up with the L12 subgroup of L-Pod.
From left to right: L41 Mega, L25 Ocean Sun, and L94 Calypso. L77 Matia and L113 Cousteau were also present.


L89 Solstice
They seemed to be actively foraging, with whales splitting apart and coming back together, occasionally changing directions and lunging at the surface.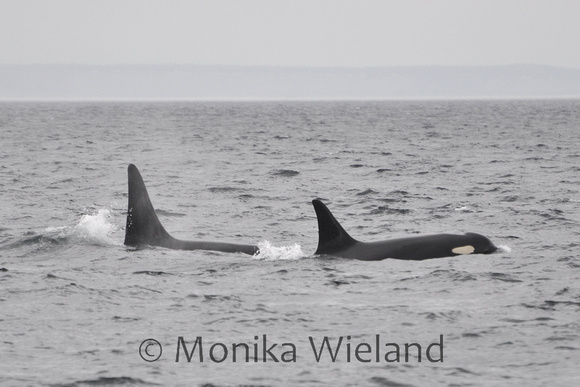 L89 Solstice with his mother, L22 Spirit
We followed along with Solstice and Spirit who were traveling together. I was just wondering where Solstice's brother L79 Skana was when all of a sudden he popped up a little ways behind us.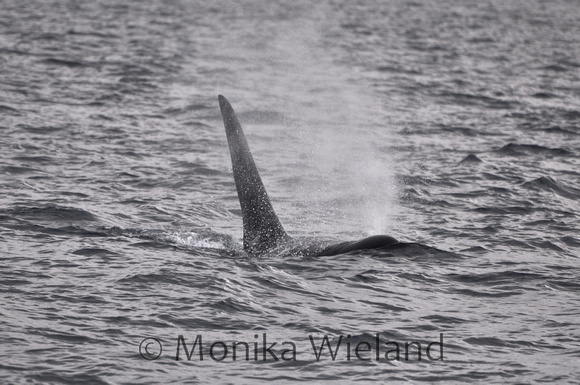 L79 Skana
He proceeded to swim along the side of the boat, surfacing four times - it was stunning!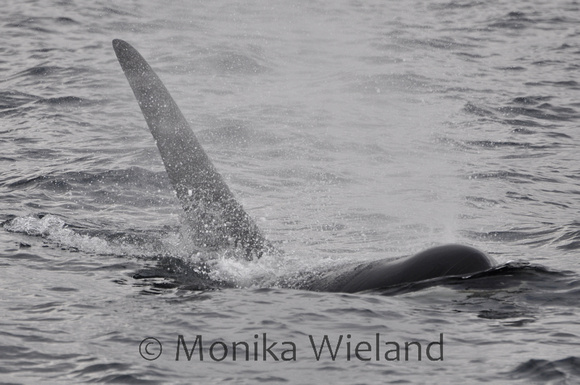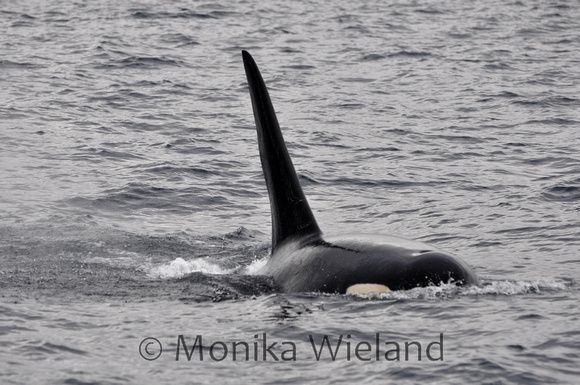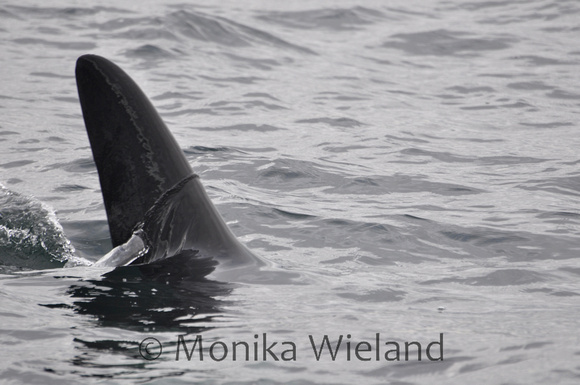 I love this shot - the water flowing off the tip of Skana's dorsal fin as he comes to the surface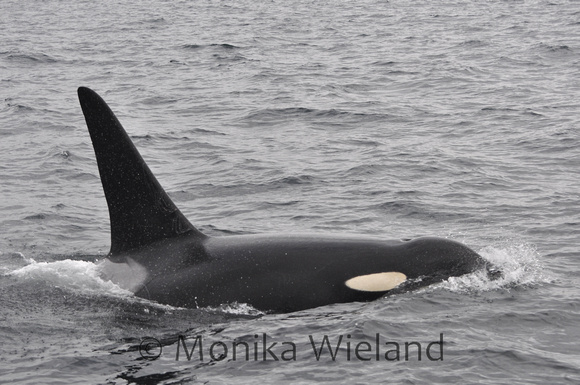 What was amazing when he surfaced closest to us (other than his size - wow is he big!) was all the scratches on the front edge of his dorsal fin. It looks like he's acquired some serious rake marks, probably from the teeth of another killer whale. Here's a close-up look:
Scratches on Skana's dorsal fin
Before we left, another bigger group of whales swam past. It turned out to be the K13 family group!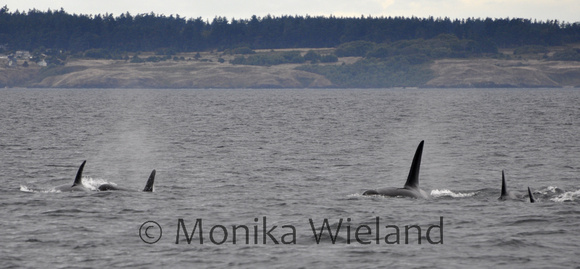 The K13s
As we headed back towards San Juan Island, we saw lots of birds, including several flocks of common murres. This one is transitioning between summer and winter plumage:
Common murre
In addition to the ubiquitous glaucous-winged gulls, there were lots of Heermann's gulls and a few California gulls (later on I saw a small flock of Bonaparte's gulls too).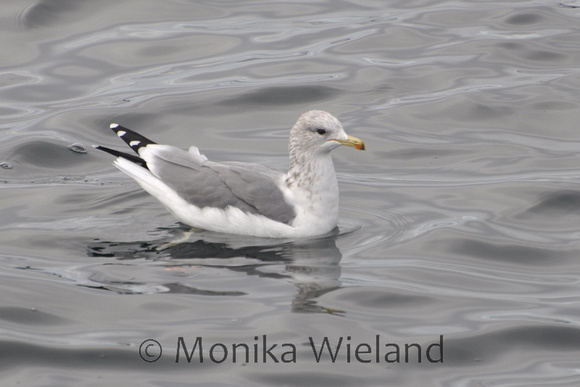 Over near Long Island off of Lopez there were more birds, including harlequin ducks, a belted kingfisher, a turkey vulture, and these brandt's cormorants perched on a rock alongside a harbor seal:
Captain Peter set up an awesome photo op at Whale Rocks, with the Cattle Point lighthouse in the background. There's lots of Steller sea lions and harbor seals on Whale Rocks along with more cormorants.
Steller sea lions on Whale Rocks with Cattle Point Lighthouse in the background
Here's a closer look at some of those massive Stellers. One was branded, and another one had a huge wound on his side. Despite hanging out so close together, they don't really get along all that well - it was probably an injury from another Steller.
Steller sea lions
Did I mention there were LOTS of cormorants? I saw all three species: brandt's, double-crested, and pelagic.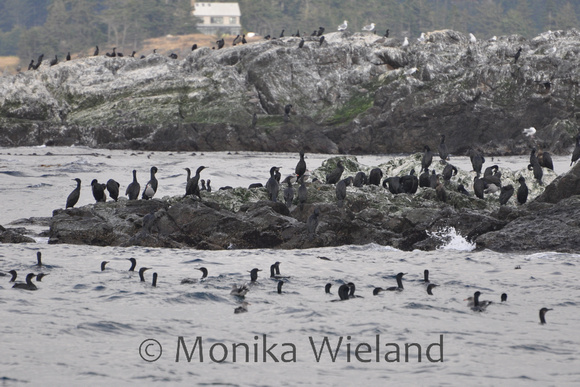 On the way back to port the sun came out, lighting up our boat wake, though storm clouds could still be seen in the distance to the west behind us:
Overall, it was an awesome trip! You can view a photo gallery of all these images
here
, where you can also purchase prints or digital downloads.