Earlier this week I was enthralled by the osprey at British Camp. A breeding pair returns every summer, and this season it looks like they fledged two chicks as we saw four birds in total. They were all calling to each other, intermittently flying around and perching in the trees. Although we didn't see them actively catching fish, I saw birds carrying fish in flight and one eating a fish while perched right below the nest.
This bird for some reason dropped a large headless fish back into the water, then circled around and landed in a snag right next to me: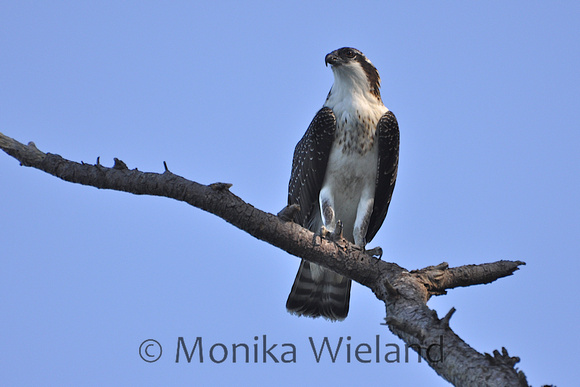 I think that's the closest I've ever been to an osprey!
I need to note a few updates to the year list, too - last weekend I saw a merlin (192) at Jackson Beach, and then at British Camp I saw a Hutton's vireo (193). With a little luck, I'll be able to reach my goal of 200 species for the year! Some other highlights from our hike at British Camp included a pileated woodpecker and 30+ double-crested cormorants.
It wasn't just birds at British Camp, however - we also came across a mama deer with a curious fawn: