While there is undoubtedly still some more winter weather between us and the true arrival of spring, it's impossible not to notice the changes that are leading us towards longer days and warmer weather. Last Tuesday afternoon I went for a walk on the docks of Friday Harbor and it was beautiful out - sunny and mild:
We "spring ahead" with daylight savings time in about a month, and already it's not fully dark until after 5:30. Similarly, I notice the changes in the mornings, as it's lighter and lighter when I get up each day. One thing that helped get me through the dark winter mornings over the last few months, however, was being able to witness some pretty stunning sunrises right off our front porch. It was amazing how often the day would dawn in a splash of color, only to turn gray and dismal ten minutes later and remain that way until dusk. I've wanted to post a series of sunrise photos for some time, and now that I'll be seeing fewer of them it seemed like an appropriate time to share some sunrise highlights from November-January.
The best sunrise of the winter, in my humble opinion, was January 11th. I may have posted this photo once before, but it's worth sharing again: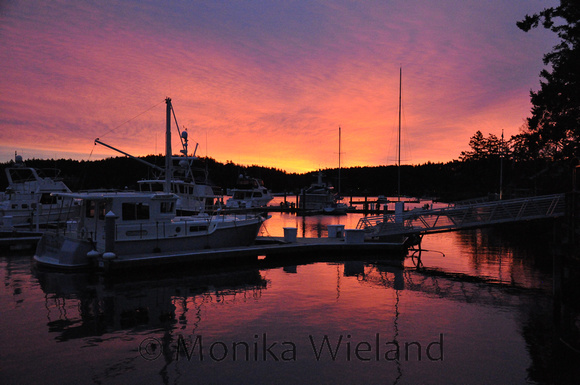 Happy "quickening", everyone!